In areas of intense rain or sun, solid covers offer complete shade and total protection of your patio. Our insulated laminated roof panels (LRP) are made with an expanded polystyrene (EPS) core sandwiched between embossed aluminum panels. Comes in 3″-4″-6″ panels to offer more value and noise reduction when it rains. Comes in White or Desert Sand Only. Gives a clean modern and contemporary look. You can design your patio area to be 2-toned to give a custom look.
Alumawood Solid Patio Covers
Elitewood's™ unique metallic composition offers not just comfort, but complete peace of mind. Little to no maintenance, total weather resistance, no cracking, warping, or splitting. No need for painting, fire resistant, termite resistant, and unsurpassed durability that will preserve its beauty for years to come.
Home Impressions Inc. presents the Elitewood Classic Series. Classic Series Lattice is embossed with a rough-hewn cedar look that portrays the natural appearance and beauty of wood without the issues associated with the wood.
We are pleased to announce the introduction of TEFLON™ surface protector to our already outstanding Elitewood Classic patio product line. Teflon™ surface protector helps protect the space you've created for you and your family. Products developed with Teflon™ surface protector improved durability, dirt pickup resistance, and easy cleanup. Exterior coatings that carry the Teflon™ brand contain high-quality ingredients designed to create the best conditions for a beautiful and enduring surface. TEFLON™ is a trademark of THE CHEMOURS COMPANY FC, LLC. used under sublicense by Latium USA Trading LLC.
The tremendous flexibility of Elitewood™ Classic Series lets you select the amount of shade your patio cover provides, from 60% to 40% to total shade. You can even combine them to give your patio area an ideal amount of sun or shade for your personal comfort and lifestyle.
With a traditional style lattice cover, you can regulate the amount of shade and sun you want while enjoying the great outdoors.
Classic Series Lattice is manufactured from strong, durable, lightweight aluminum. Embossed with a cedar texture to capture the look of perfectly cut wood.
What makes Classic Series Lattice different from other exterior aluminum products? First, a base coat of primer is baked on, followed by a polyester finish that includes a textured additive, which is also baked on, making it look and feel more like natural wood. This multi-step coating process ensures your Classic Series Patio Cover will look beautiful and vibrant for years to come.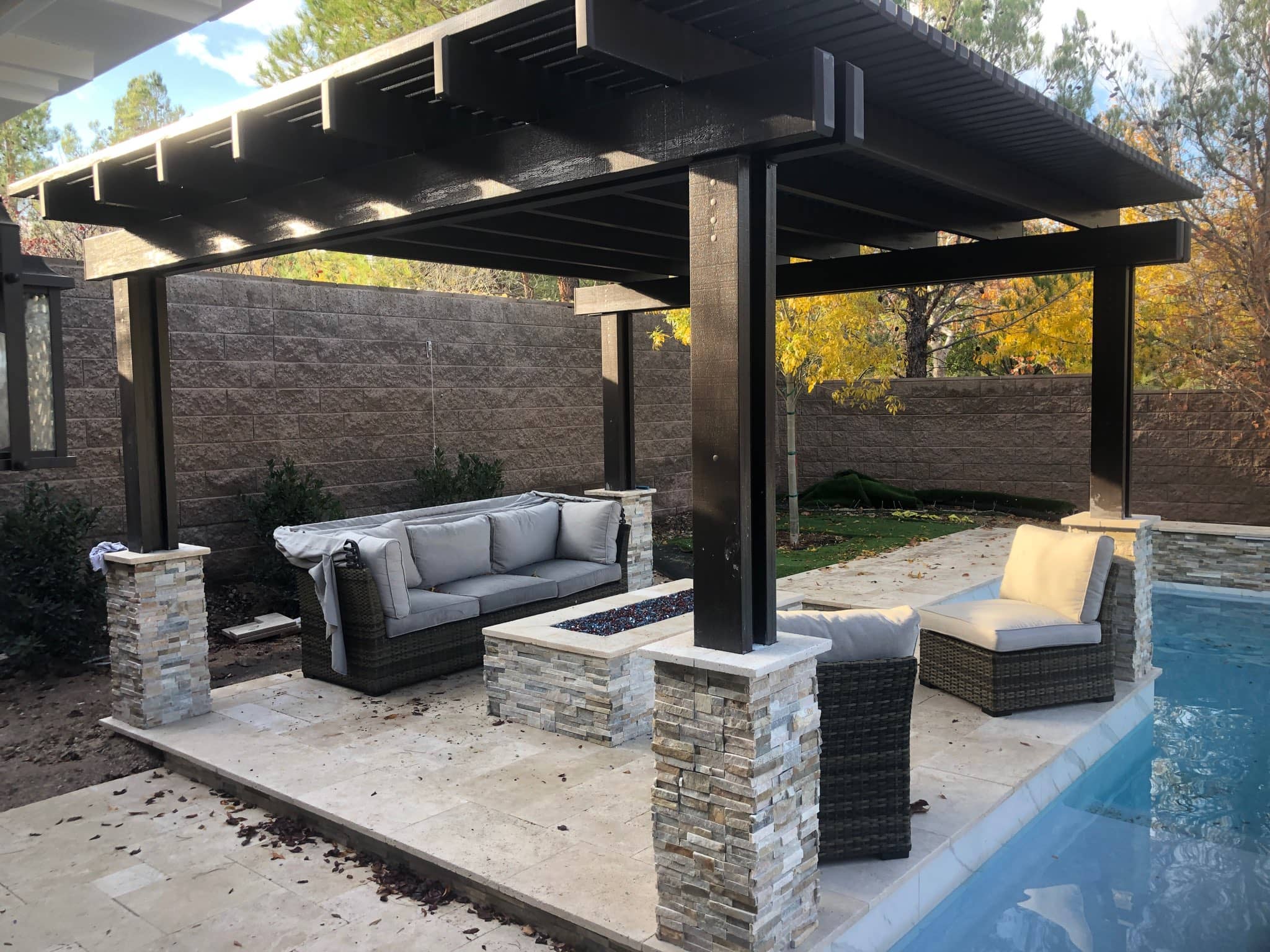 Use your imagination to design a combination patio cover featuring both open and solid style sections. This feature will allow you to enjoy your Elitewood Classic Series Patio Cover on the hottest days of the summer, as wells as, the coolest days of the winter and every day in between. With a combination patio cover, you can virtually custom design your patio structure to meet your every need for a total outdoor living experience.